Finnegans Hell
The single "Happy Christmas" will be released worldwide on November 19th. It is a dystopian Christmas tale, perhaps even darker than the band's 2013 hit "Drunken Christmas".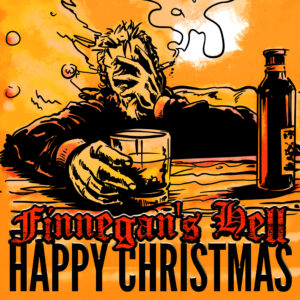 Finnegans Hell
"Work Is The Curse Of The Drinking Class" can now be ordered straight from this homepage – just vist the merch section.
The album is available as an LP gatefold (red vinyl) and as CD/digipack, and there is also a red t-shirt with the album cover on it. Check it out!
Finnegans Hell
Check out "Finnegan's Hell live at Woodstock", available on all major digital music services. Three tracks from the gig at Woodstock's main stage 2016: our classic "Jar Of Porter" and the two brand-new songs; "How Am I To Make It?" and "Coal Mine". Click here to watch a live video from the show!
Finnegans Hell
For those of you who could not get tickets to the show in Berlin, here's a live video that should not make you disappointed. We hope to come back soon to make some more noise.

Finnegans Hell
Here's a crash course on Finnegan's Hell. Learn all you need to know about the band in three minutes! This short documentary contains interviews with the band members and live footage from all around the world:

Finnegans Hell
Mick Finnegan teaches you all you need to know about the tin whistle. Step by step he reveals the secret to playing this traditional Irish instrument like a pro, and shows you that anyone can learn how to play the tin whistle. To play along, just grab a penny whistle in the key of D!

Finnegans Hell
On July 31st Finnegan's Hell performed in front of a massive audience at Europe's biggest open air festival; Woodstock Festival in Poland. The show was recorded and broadcasted by Kreciola TV, and you can watch an excerpt from it right here – just click on "read more".